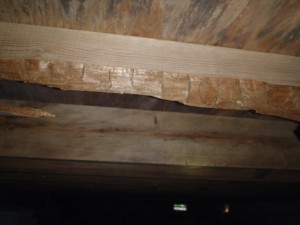 "Dry rot is the term given to brown rot decay caused by certain fungi that deteriorate timber in buildings and other wooden construction seemingly without an apparent source of moisture"
The discovery of the dry rot noted in this picture came from a very tight crawlspace that most likely had not been entered in years. Because of this, problems like dry rot, wood destroying insects or other moisture related problems can go unnoticed and untreated resulting in expensive repairs.
If you are purchasing a home in Indianapolis, Columbus, Seymour, Greenwood and other central Indiana locations, call INSPEKT to have the home evaluated before closing.
844-INSPEKT